💦 Stylized Water for URP
About my stylized water shader for Unity.
During the few months between November 2019 and April 2020 I created a stylized water shader for the Universal Render Pipeline and published it on the Unity Asset Store. The asset was received positively with 94% five star reviews and the asset was even nominated for the best artistic tool in the Unity Awards 2020.
The shader is packed with features such as refraction, caustics, Gerstner waves, buoyancy and planar reflections. Visually, I managed to create very nice looking water that was easy to tweak due to the custom material editor I made for it.



I have spotted the asset being used in multiple games/projects that are in development. An example of this is the city builder/management game that is in development by Max Nielsen. I actively asked the community to share their games that used the shader and I loved seeing the asset in action.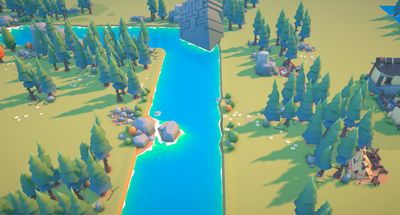 In the past year that the water shader has been on the store, I have received amazingly positive feedback from the community and being nominated for the Unity Awards is something I would have never imagined. I am very grateful for everybody that has purchased the asset, left reviews and interacted in the community Discord. My sincerest thank you.
In the past few months I have been able to spend less and less time on the asset due to other projects. Not having enough time to spend on the project and impressive competitors appearing on the store such as this one has left me very demotivated. During a certain period, working on the shader made me very unhappy due to the pressure I was feeling.
Since I feel like I can not give the asset and future customers the support that they deserve, I have decided to discontinue the asset in its current forum. Effectively, I will be making the asset free for now and no longer providing support for it. The asset works well, the documentation is good and I am proud of what the shader is and how it was able to be of use for a lot of customers.
Thanks ♥
Alex
Published